As a result of the current pandemic, the traditional January NAMM show has changed to an online celebration called "Believe in Music Week". Believe in Music Week is a global gathering to unify and support the people who bring music to the world. While not The NAMM Show, this event will still bring the music community together and serve as a online meeting place for all music related businesses where the newest innovations in music, recording, and sound are showcased. The event will also offer live music, content and product discovery for all who believe in music, helping connect music makers and enthusiasts across the world.

The digital experience will start on Monday, January 18, 2021 and showcase content through Friday, January 22. Music World will once again keep you up-to-date with all the newest music gear during the event.

Here are some of the new products unveiled at NAMM Believe in Music Week:
TAYLOR GUITARS
Taylor GT 811e
One of the first GT guitars to be released in the context of an existing series, the GT 811e blends the dazzling sparkle and warmth of Indian rosewood with the unmatched playability of the GT's comfortably compact frame. With its shorter body and scale length, the GT's proportions are smaller than the Grand Concert but larger than the GS Mini, finding a sweet spot where comfort meets rich, solid-wood tone. The superstar tonewood pairing of Indian rosewood back and sides with a Sitka spruce top delivers all the clarity and balance you'd expect from a full-size rosewood guitar, while its smaller footprint and shorter scale (24-⅛") provide a slinkier feel that makes complex chords or arpeggio formations easier to hold. Under the hood, the GT 811e reflects Taylor's envelope-pushing design approach—we've adapted the tone-enhancing benefits of V-Class bracing into a new pattern that provides similar increases in volume and sustain for the GT's smaller frame. Called C-Class bracing, this interior architecture boosts the response in the bass range, yielding warmth and presence that a guitar of this size typically can't produce. This model is appointed to match its counterparts in the 800 Series, featuring maple binding with black purfling accents, a single-ring abalone rosette, a thin 4.5-mil gloss finish on the entire body, and mother-of-pearl fretboard and peghead inlays in our Element pattern. The GT 811e ships with built-in ES2 electronics for organic plugged-in tone and comes with our exclusive AeroCase, whose ultra-lightweight construction and padded walls provides ample protection.
Taylor K21e
Hawaiian koa imbues any acoustic guitar with a distinctively vibrant sound and a striking visual aesthetic to match. The GT K21e, the first Grand Theater guitar to feature the popular hardwood, further elevates koa's musical reputation with a punchy midrange, clear treble chime, and a pleasing sonic sweetness. Offering some of the natural compression that players expect from mahogany, the koa top helps even out an aggressive attack and adds an extra splash of low-end presence. Voiced with C-Class bracing, the GT K21e offers surprising power from a smaller-bodied guitar, with plenty of volume and articulation to shine through any mix of sounds. Visually, this model echoes the styling of its Koa Series brethren with a sinuous Spring Vine inlay in maple and an edgeburst finish treatment to showcase koa's naturally beautiful lustre and coloration.
Taylor GT Urban Ash
Designed from the ground up for comfort, playability and rich tone, the GT Urban Ash debuts a new compact body shape with a big, resonant acoustic voice. The GT (Grand Theater) shares the basic footprint of the jumbo-sized Grand Orchestra shape, but its proportions have been scaled down (including a shallower body depth), creating a fun, inviting feel in a package that you can take virtually anywhere. The GT also features a uniquely proportioned neck with a scale length of 24-⅛", a bit longer than the GS Mini and a bit shorter than the Grand Concert. The neck provides a slinky fretting feel thanks to reduced string tension. It comes together in the GT Urban Ash, built with solid back and sides of the responsibly sourced tonewood that gives the guitar its name. A solid spruce top helps charge the GT's tonal response with projection that belies its small frame, powered by the new asymmetrical C-Class bracing design, which translates the tone-enhancing properties of V-Class bracing into a sonic engine that's appropriate for this new body shape. Expect a warm, punchy midrange accentuated by crisp treble notes, with an impressive bass response that owes its surprising power to the new bracing scheme. A beautiful fretboard of responsibly sourced smoked eucalyptus delivers the feel of a rosewood fretboard with the tonal character of ebony, while a thin matte finish preserves the guitar's resonance. A clean-cut appointment package includes Pinnacle inlays in Italian acrylic, a three-ring koa rosette and a dusky Urban Sienna stain on the ash back and sides. It ships in a super-durable yet lightweight AeroCase™.
TaylorSense
TaylorSense offers acoustic guitar players a comprehensive way to monitor the health and safety of their Taylor guitars. Featuring sensors conveniently hidden in your guitar's 9-volt battery box, TaylorSense sends real-time data on relative humidity, temperature and impact events to the paired app on your iPhone or Android smartphone via low-energy Bluetooth, alerting you immediately when conditions arise that could cause damage to your guitar. The TaylorSense guitar health monitoring system is available in the US, and we hope to make it available elsewhere in the world soon.
Taylor DarkTone Series Pick Tins
Our DarkTone Series pick tins make the perfect carrying case for the sample pack of nine Taylor DarkTone picks that are included. Choose from two pick tin styles: black metal with a sliding top and our Taylor logo, or our Collector's Edition tin, featuring a black metal hinged top with a beautiful Hawaiian koa overlay, laser-etched Taylor logo, and leather insert with embossed Taylor logo. Each sample pack features a variety of picks from each DarkTone material family (Ivoroid, Thermex Ultra, Thermex Pro and Taylex), with varying shapes and thicknesses so you can explore and compare the sonic nuances of each pick.
FENDER
ULTRA LUXE SERIES
For players who demand the ultimate in performance and tone, American Ultra is our most advanced series of guitars. New Ultra Luxe editions take the series a step further by outfitting Telecaster and Stratocaster models with the most-requested components players are desiring. Decked out in eye-catching custom colors with matching painted headcaps, these versatile, state-of-the-art instruments will inspire you to push your playing to new heights.
75th ANNIVERSARY COLLECTION
In 1946 Clarence "Leo" Fender established the Fender Electric Instrument Company and changed the trajectory of modern music forever. His inventive mind revolutionized the electric guitar and bass, reshaping modern music in the process. The 75th Anniversary Collection celebrates Leo's bold, revolutionary designs with special editions that honor the most iconic Fender guitars and basses; Telecaster, Stratocaster, Precision Bass and Jazz Bass.
NOVENTA SERIES
The Noventa series delivers powerful tones, modern playability and rugged attitude for the player that likes a smoldering look and sound. Fender guitars are often known for their chiming brilliance, but loaded with Fender MP-90 pickups, the Noventa series resounds with midrange bite, snarling highs and warm and whiskey-throated lows. These pickups offer a wide array of versatile and potent tones – suitable for everything from hard rock to jazz and anything in-between. The Noventa series is comprised of Telecaster, Stratocaster and Jazzmaster models and each one cooks up a smooth blend of modern and vintage playability that remains distinctly Fender.
MUSTANG MICRO
Mustang Micro is a complete personal guitar amplifier featuring a wide selection of tones from the wildly popular Mustang series amps. Plug Mustang Micro directly into your guitar, connect a pair of headphones and choose your amp and effects. It's ideal for any player from beginner to pro, making it quick and easy to get great tones when jamming silently at home or on the go.
68 CUSTOM AMPLIFIERS
1968 was a watershed year for music as well as Fender amplifiers. Known as the "silver face" era with its silver-and-turquoise graphics, aluminum "drip edge" around the grille cloth and tube driven power, they are the stuff of legends. The new '68 Custom Vibro Champ and Pro Reverb take their cues from the original models but make upgrades for today's player. Modified circuits and Celestion® speakers deliver low end punch, warm vocal midrange and crystalline highs.
GRETSCH
VINTAGE SELECT
Vintage Select Edition guitars are designed for the player who appreciates the finest in musical instrument heritage. Our all-new Vintage Select '89 Jet™ guitars resurrect a classic late-'80s design that rocked the forefront of the Pacific Northwest grunge movement that overtook the music world in the early 1990s.
PLAYERS EDITION
As the centerpiece of our flagship Professional Collection, the Players Edition is designed for the working professional seeking classic Gretsch tone and cutting-edge features for maximum power, comfort and versatility.  For 2021, Gretsch is adding the G6228TG-PE Players Edition Jet™ BT with Bigsby® and Gold Hardware. Available in three new stunning finishes, this marks our first Players Jet™ BT model with a Bigsby® tailpiece as well as gold hardware.
ELECTROMATIC
No nonsense, Electromatic® Collection guitars are the perfect real, pure and powerful Gretsch instruments. Dynamic, articulate and crafted with essential Gretsch sound, style and playability, our Electromatic guitars deliver the fearless and electrifying authenticity that has set Gretsch apart for decades. It's the sound of honor itself—play proud.  For 2021, Gretsch is adding to this collection with the brand-new G5410T Limited Edition Electromatic® Tri-Five Hollow Body Single Cut with Bigsby® featuring three classic '50s two-tone finishes, all-new V-Stoptail offerings with the G5622 Electromatic® Center Block Double-Cut and new finishes for the G5622T Electromatic® Center Block Double-Cut with Bigsby®.
STREAMLINER
The Streamliner™ Collection lets you explore new sounds and textures at an amazingly affordable price. Built for versatile tones and spectacular style, these guitars scream with modern features and vintage Gretsch® stylings from the '40s, '50 and '60s.  For 2021, Gretsch is rolling out brand-new Streamliner Center Block and Center Block Jr. Double-Cut guitars with all-new Gretsch FideliSonic™ 90 pickups. The G2655-P90 and G2622-P90 come in a variety of finishes with both Bigsgy® and V-Stoptail options. Gretsch is also extending its G2410TG Streamliner Hollow Body Single-Cut with Bigsby® with new finishes and gold hardware.
JACKSON
PRO SERIES SIGNATURE BRANDON ELLIS KELLY
Black Dahlia Murder guitarist Brandon Ellis has been captivating the metal realm since taking over lead guitar duties on the band's 2017 album Nightbringers. Jackson® is proud to honor the incredible talents of the self-taught axe ace with the Pro Series Signature Brandon Ellis Kelly™. This signature behemoth seethes with metal sophistication, while also delivering massive sound and high-performance efficiency.
MJ SERIES
Harkening back to the early '90s when import Jackson® guitars were manufactured exclusively in Japan, we introduce the all-new Jackson MJ Series — an exciting and innovative collection of instruments attentively crafted in Japan. The MJ Series blends Jackson's world-renowned legacy of designing high-performance instruments with an assortment of top-tier features at a competitive price point.
PRO SERIES GUITARS
The first thing you notice about a Jackson® Pro Series instrument is its striking aesthetics – the gorgeous look and super-sleek feel. Our classic designs are loaded with pro features, outstanding tone, light-speed playability, terrific balance and remarkable value. 
New for 2021, we have expanded our popular Pro DK Modern models with two new additions — a 6-string with EverTune bridge and a 7-string multi-scale offering with a Hipshot bridge. We have also added some incredible new Pro King V, Monarkh, Rhoads and Soloist™ models in a variety of stunning finishes from classic Satin Black to a mirror top and new Lightning Crackle.
PRO SERIES SPECTRA BASS
The Jackson® Pro Series Spectra Bass is a finely crafted instrument with its very essence right there in the name—a bass for professionals. A bold bass that's more than just a cut above the others; a bass designed to deliver the finest to the demanding and adventurous pro player. The finest in style, tone, comfort and playability.
X SERIES GUITARS
Think classic Jackson® designs, outstanding tone, ultra-fast playability and highly affordable value for 21st-century guitarists. Built with the very latest in Jackson expertise and innovation, X Series models are steeped with an "X" factor that makes them perfect modern shred machines for a whole new generation of no-holds barred guitarists. For 2021, Jackson is rolling out several new models including camo finishes for our Soloist™ and Rhoads shapes, a full line-up of Dinky™ bolt-on models and a throwback SL1X Soloist™.
X SERIES CONCERT BASS
The all-new Jackson® X Series Concert™ Bass CBXNT DX IV is a highly versatile bass designed for one express purpose—bringing the thunder to your music. Upgraded electronics, classically brutal style and fast, efficient playability make this entry into the lineup a fundamental force to be reckoned with. Perfect for rock, punk or metal—or other styles that demand low, punchy bass—this instrument is an unbelievable value.
CHARVEL
MJ SERIES
Harkening back to the late '80s when Charvel® guitars were manufactured exclusively in Japan, we introduce the all-new MJ Series DK24 HSH 2PT E Mahogany with Figured Walnut— an exciting instrument attentively crafted in Japan. Exquisite in style, this MJ guitar blends Charvel's unparalleled legacy of designing high-performance instruments with an assortment of top-end features.
PRO-MOD SERIES GUITARS
The Pro-Mod Series continues upon Charvel's storied legacy of innovative excellence in high-performance guitar design, offering the latest technology and top-notch features that modern players need. For 2021, Charvel has expanded its popular DK24 2PT, San Dimas® and So-Cal platforms with new configurations and eye-catching finishes.
EVH
5150 SERIES
Engineered for speed, comfort and full-throttle attitude, the reimagined 5150® Series Standard and Deluxe models are an iconic blast from the past that blend both throwback and modernized features. New for 2021, EVH® has upgraded the series with all-new finishes including poplar burl top options and the much-requested kill switch for high-velocity rock.
WOLFGANG SPECIAL
Road-tested in arenas around the world, the Wolfgang® Special is a purebred music-making machine, designed with stunning style, giant sound and high-speed playability. For 2021, EVH® revisits our quilt top models with trans finishes and all-new baked maple fingerboards, and adds a stunning new solid finish with ebony fingerboard.
WOLFGANG STANDARD
The Wolfgang® WG Standard models boast the same style and massive sound Eddie Van Halen created — at a price the everyday musician can afford. For 2021, EVH® also rolls out several new Exotic finishes, a new quilt maple top with transparent finish and some dazzling solid colors.
PAUL REED SMITH
SPECIAL SEMI-HOLLOW
The PRS Special Semi-Hollow offers players a versatile hum/ "single"/hum configuration with two PRS 58/15 LT humbuckers and a PRS Narrowfield middle pickup. PRS Narrowfield pickups deliver the bite of a single coil, so they cut through the mix with plenty of clarity and punch – without the hum. Paired with a 5-Way blade switch and two mini-toggles that tap the 58/15 LT humbuckers, this guitar can handle myriad sounds and styles (with twelve pickup combinations in total). Roll back the tone control for added growl, turn it up for some shimmer, and have fun exploring this versatile tonal palette. 
STUDIO
The PRS Studio model is a modern take on a traditional single-single-hum guitar. With PRS's proprietary Narrowfield pickups in the middle and bass positions and a 58/15 LT humbucking bridge pickup, the PRS Studio offers punchy singlecoils, vintage scooped tones, and the chunky kick of a bridge humbucker screaming in one instrument. This whole new scope of sounds (that are only possible with a three-pickup guitar) are easily accessible in the Studio model thanks to the push/pull tone control and 5-way blade switch. With seven combinations in all, the PRS Studio covers classic tones but maintains a unique voice making it a perfect "desert island" guitar.
CUSTOM 24-08
The Custom 24 is the quintessential PRS guitar: the iconic guitar that started it all back in 1985. The Custom 24-08 keeps all of the same foundational specifications as the original Custom – maple top, mahogany back and neck, 24 frets, 25" scale length, the PRS patented Gen III tremolo, and dual 85/15 pickups – but adds a new level of versatility with its simple switching system. Featuring mini-toggle coil tap switches, the Custom 24-08 has eight different pickup settings that provide an array of humbucking and singlecoil tones. For classic PRS playability, reliability, and tone with ultimate flexibility, check out the Custom 24-08.
SE CUSTOM 24-08
The Custom 24 is the quintessential PRS guitar: the iconic guitar that started it all back in 1985. The Custom 24-08 keeps all the foundational specs of the instrument, while taking the Custom platform to new sonic territories. Like the Core Series instrument, the SE Custom 24-08 features two mini-toggle coil tap switches that individually split the humbuckers into true single coils for a total of eight pickups configurations. Classic design elements include a maple top, mahogany back, rosewood fretboard, 24 frets, 25" scale length, bird inlays, signature headstock logo, and PRS patented tremolo.
SE CUSTOM 24
The SE Custom 24 is a modern classic with roadworthy durability, addictive playability, and wide array of tones, making it a perfect workhorse guitar. Played by internationally touring artists, gigging musicians, and aspiring players, the SE Custom 24 features a maple top with shallow violin carve, mahogany back, wide thin maple neck, rosewood fretboard with bird inlays, and the PRS patented molded tremolo bridge. Its versatile sounds come from the 85/15 "S" pickups paired with a volume, push/pull tone control, and 3-way blade pickup selector.
TAMA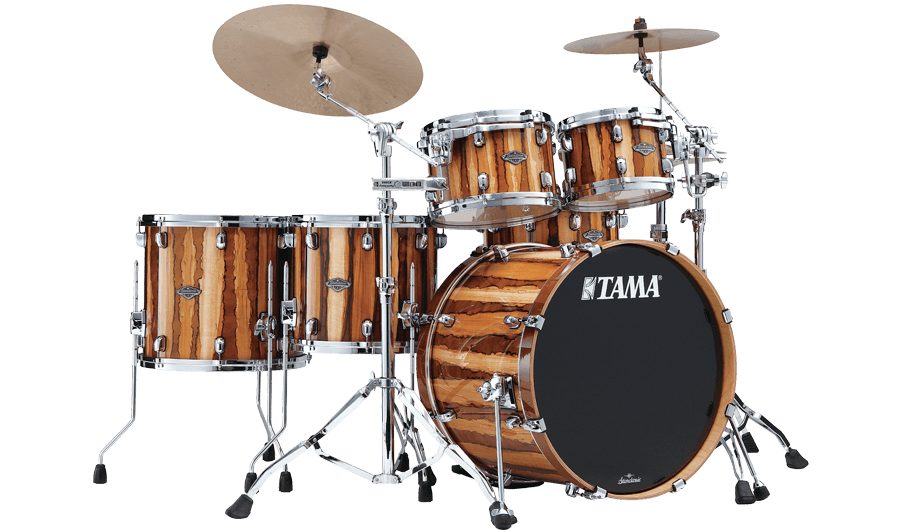 Starclassic Performer
TAMA's newest Starclassic Performer series centers on the newest TAMA hybrid shell – Maple/Birch – to offer drummers a complex, powerful and expressive sound supported by rugged Starclassic performance. TAMA's Starclassic Performer series evolves the Starclassic legacy to provide a unique TAMA sonic component that redefines the art of professional drum set sound and expression at an undeniable value. New finish for 2021: Caramel Aurora and Molten Steel Blue Burst.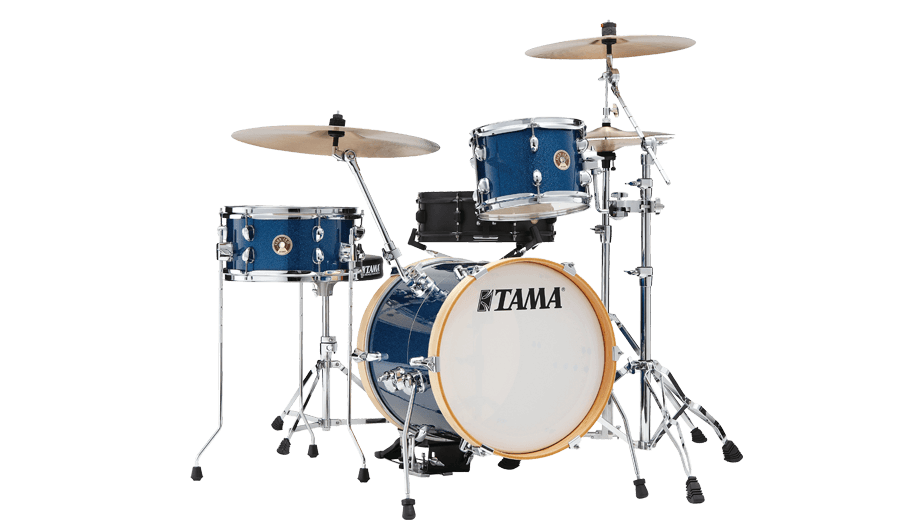 Club-JAM Suitcase Kit
The new Club-JAM Suitcase Kit features the ultimate portability, and is the perfect addition to the Club-JAM family. The bass drum can be divided into two pieces, allowing the tom tom and floor tom to be stored inside for easy transportation by utilizing a specially designed bag set (sold separately). The 15" deep, 16" diameter bass drum offers a big sound in a
compact size. This new model offers a full-featured playing experience with the convenience of single case portability.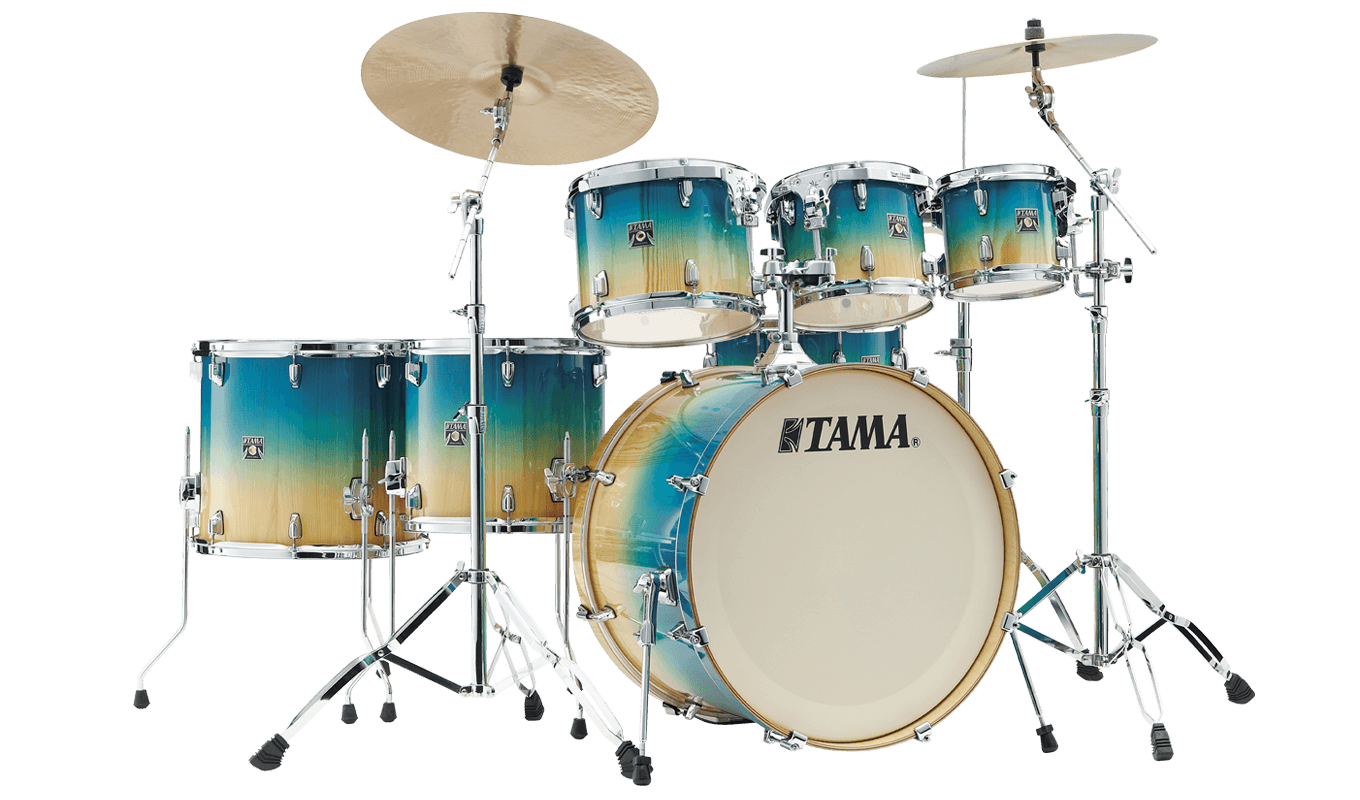 Superstar Classic
For more than forty years, the Superstar name has stood for groundbreaking design, superior build quality, sterling tone, and clear projection. Superstar Classic once again upholds tradition by raising the bar for discerning drummers—and remarkably—does it at an extremely competitive price. Drawing on Superstar of the past, its classic TAMA T-shape badge and streamlined low-mass single lugs point to the simpler state of art of the 70's, while the ingenious Star-Mount system and new thinner gauge 100% maple shells eclipse anything in its class. Visually ravishing, the Gloss Lacebark Pine exterior ply possesses a complex wood grain pattern to give this kit an extraordinary visual appearance. New finish for 2021: Gloss Lacebark Pine Fade.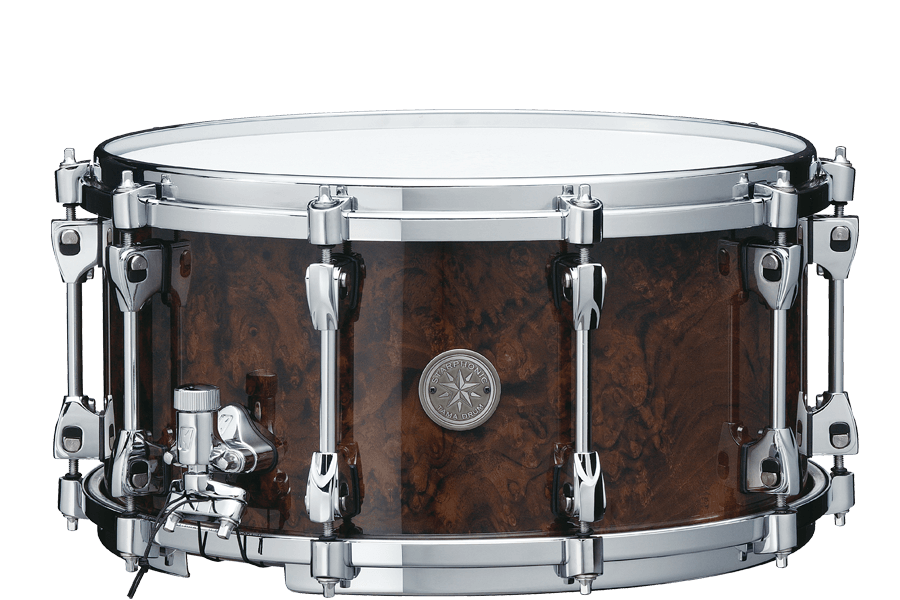 STARPHONIC Walnut 14"x7"
This STARPHONIC snare drum features a thin 6mm/7ply Walnut shell characterized by its uniquely warm sound and mid-low tone. The Grooved Hoop provides controlled overtones and a slightly mellow attack. The Super Sensitive Hi-Carbon Snare Wires enhance the luxurious and fat sound of the Walnut shell. Finished with a Walnut Burl outer ply in a dark natural finish, this snare looks just as gorgeous as it sounds.